Optimize Remedy Licenses
Don't buy licenses you don't need!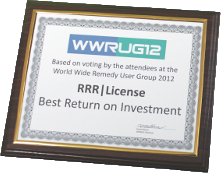 RRR|License helps you save money by making better use of the Remedy licenses you already own. Don't buy licenses you don't need! RRR|License has been voted "Product with best Return On Investment" by 400+ Remedy users at the World Wide Remedy User Group the last three years. View the demo, upload your own user log or download the Threshold Notifier if you would like to be alerted when you are close to the license limit.
License Management
RRR|Log
Fix specific performance problems or work proactively with RRR|Log. Remedy log files in a few easy steps. Try it here!
Log Analysis
Downloads and online services
Search among the complete list of our many tools and services supporting the Remedy and ITSM community.
List of Tools